Your social media strategy is probably incomplete. Too many marketers create a plan designed to create a thriving social media presence with lots of followers and likes…and stop there.
Wait, isn't that the point of social media marketing?
Not completely. It's all well and good to have an active company social media presence. But a social media presence that is all buzz and no buying is a bust. The missing component for many marketers is a social media marketing funnel.
What the Funnel Is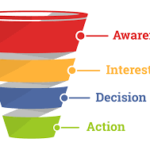 The "sales funnel" is a buzzword in marketing, one that is thrown about so much it often loses its meaning. So let's take a second to define it.
A sales funnel is the process where someone goes through the following steps:
Becoming aware of your brand
Becoming interested in your brand
Having desire for what your brand offers
Taking an action in accordance with your brand (such as buying your product/service)
The goal of course is to move as many people through the funnel as possible. In the perfect world, everyone who becomes aware of your brand eventually takes action.
But of course, that perfect world doesn't exist. That's why it's a funnel – it's largest at the top where people become aware of your brand. Fewer people eventually become interested. Fewer have desire. And fewer end up making that purchase.
Crucial action taken by you can help move along more people through your funnel.
Why You Need a Specific Social Media Sales Funnel
Social media is a unique beast. The tactics used here are not ones you would use in email marketing or when setting up a booth at an expo. This unique beast calls for a unique, tailored sales funnel.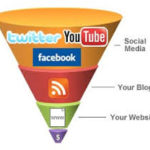 When you create a social media sales funnel, you supercharge your social media marketing. No longer is it simply about growth. After all, growth can be overrated if that growth never leads to anything. It's great to have 1,000 followers on your Facebook page, but what is that worth if none of them ever spend a dollar on your company?
When you use a social media sales funnel, you shift the focus. You keep that end point (making that moolah) in mind. This helps inform the work you do, making it more effective and strategic. It takes some effort. But it's worth it.
How to Create a Social Media Sales Funnel
Building an effective social media sales funnel requires strategy at every stage of the customer journey. The first step is to generate that awareness by being where your target audience is. Take some time to identify which channels your target audience is and how to run yours effectively. All too often, marketers spread themselves too thin. It's far better to be on two channels (but doing them right) than on five channels half-heartedly.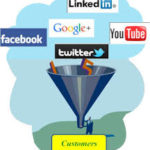 Once you know which channels to be on, you can work on generating that awareness. Facebook ads, for example, can help potential customers discover your page. When applicable, tag other organizations in your posts to help your posts show up on their followers' pages. Cross promote your social channels through strategies like including the social links in your email signatures or newsletters.
The next stage is getting people interested in your brand. Create engaging posts that capture their attention (video can be a great tool for this). Showcase how you meet their needs. Push out relevant non-salesy content. Persuade them that your content is worth their precious time. Don't make sales here yet, simply display your value.
The third stage is generating that desire for your brand's services/products. Create posts that show exactly how you meet a given need. Promote an upcoming training event. Use your channels to push out the message that your company solves their problem.
The fourth stage is prompting that final action (usually a sale!). Make this as simple for customers as possible. Some platforms, like Pinterest, allow you to make posts that direct customers directly to the shopping cart for a given product.
Not all the sales in your social media funnel will happen directly through social media, whether it be a sale in the platform itself or clicking a link in the post itself. But social media can be a great tool getting customers to the other three stages of the funnel.
Take some time to establish tangible action steps you can take to nudge customers to each new stage of the funnel. This will help your marketing efforts be tailored and targeted, rather than focusing simply on building a presence and hoping it leads to sales down the road.
A social media marketing sales funnel is a crucial aspect of your social media marketing. If you want some assistance creating and improving yours, Alpine Small Business Solutions is here for you! We offer sales funnel services to help grow your business. Check them out today!